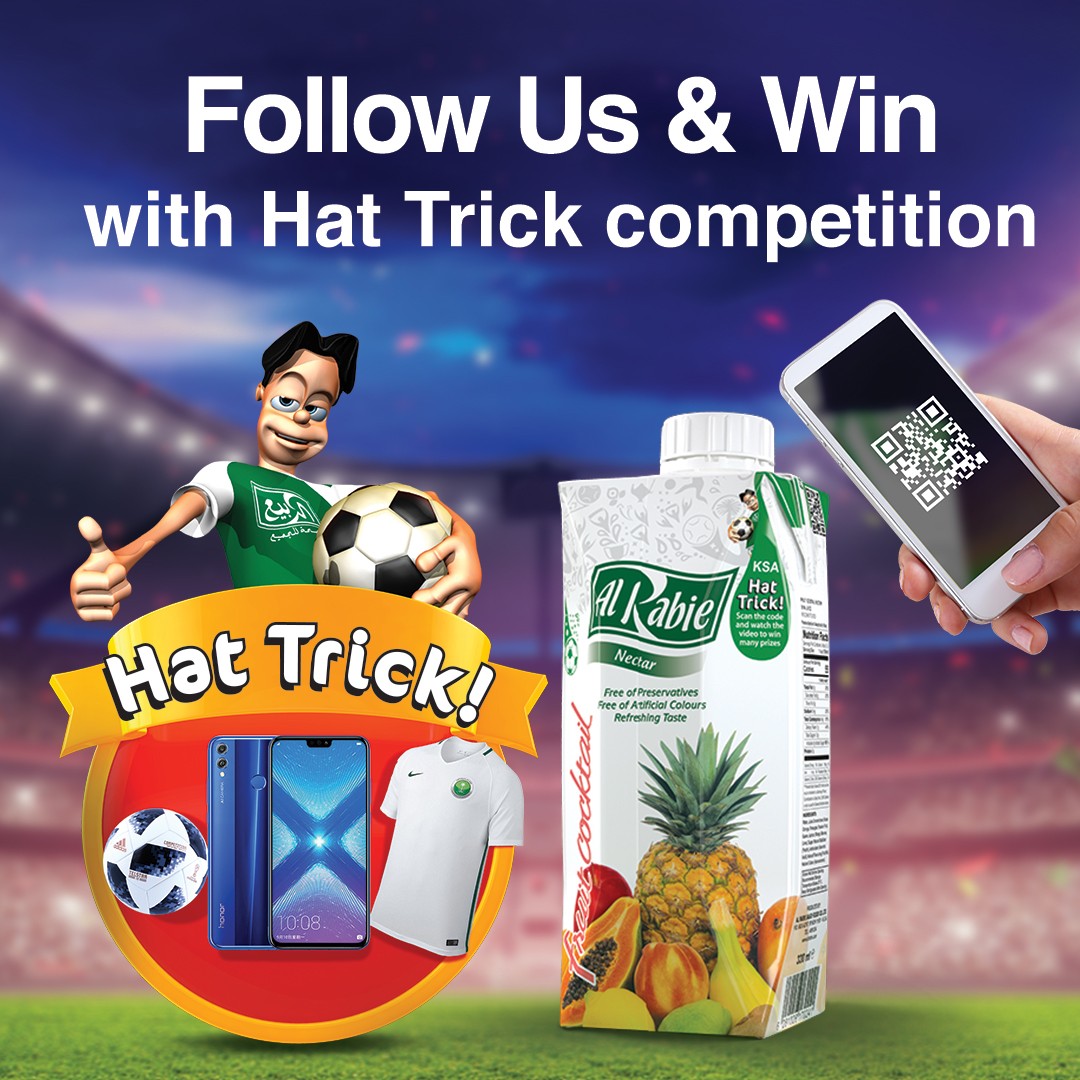 "Hat Trick" competition
During the Asian Cup 2019, Al Rabie presents to you "Hat Trick", "Hat Trick" competition is an entertaining contest featuring fun football of 26 video episodes, these episodes are about two teams battling to win their game of football; "The Good Boys" team is characterized by high morals and fair-play, having Jameel as their captain who possesses great tactical skills, whereas "The Bad Boys" team consists of players with no fair-play who keep coming up with creative ways to cheat their way to winning the game but…!! Watch the exciting episodes to know who the winner of each episode will be.
Al Rabie has created special 330 ml Juices & Nectars pack designs bearing the theme of the competition, where scanning the QR Code on the packs is a gimmick that enables consumers to participate by following the Al Rabie pages on social media, be it Facebook or Tweeter or Instagram. The competition starts on 5 January and ends on 1 February 2019 where everyone is a winner with Al Rabie and there will be various daily prizes given away, from Mobile Phones to footballs, desktop wallpapers and official Saudi National Team t-shirts among others. In addition, towards the end of the competition and specifically for the semi-final and final matches, Al Rabie will be giving away airline tickets through a special draw.
To participate, you just need to follow Al Rabie pages on social media to get notifications about the timing of airing the episodes, where once live, you will have to scan the code on Al Rabie's 330 ml Juices & Nectars products bearing the design for contest, watch the video and answer the question at the end of each episode and send it though "Direct Message" to win one of the various valuable daily prizes.
Al Rabie will make everyone live the madness of the 2019 Asian Cup madness through "Hat Trick" competition where everyone's a winner.