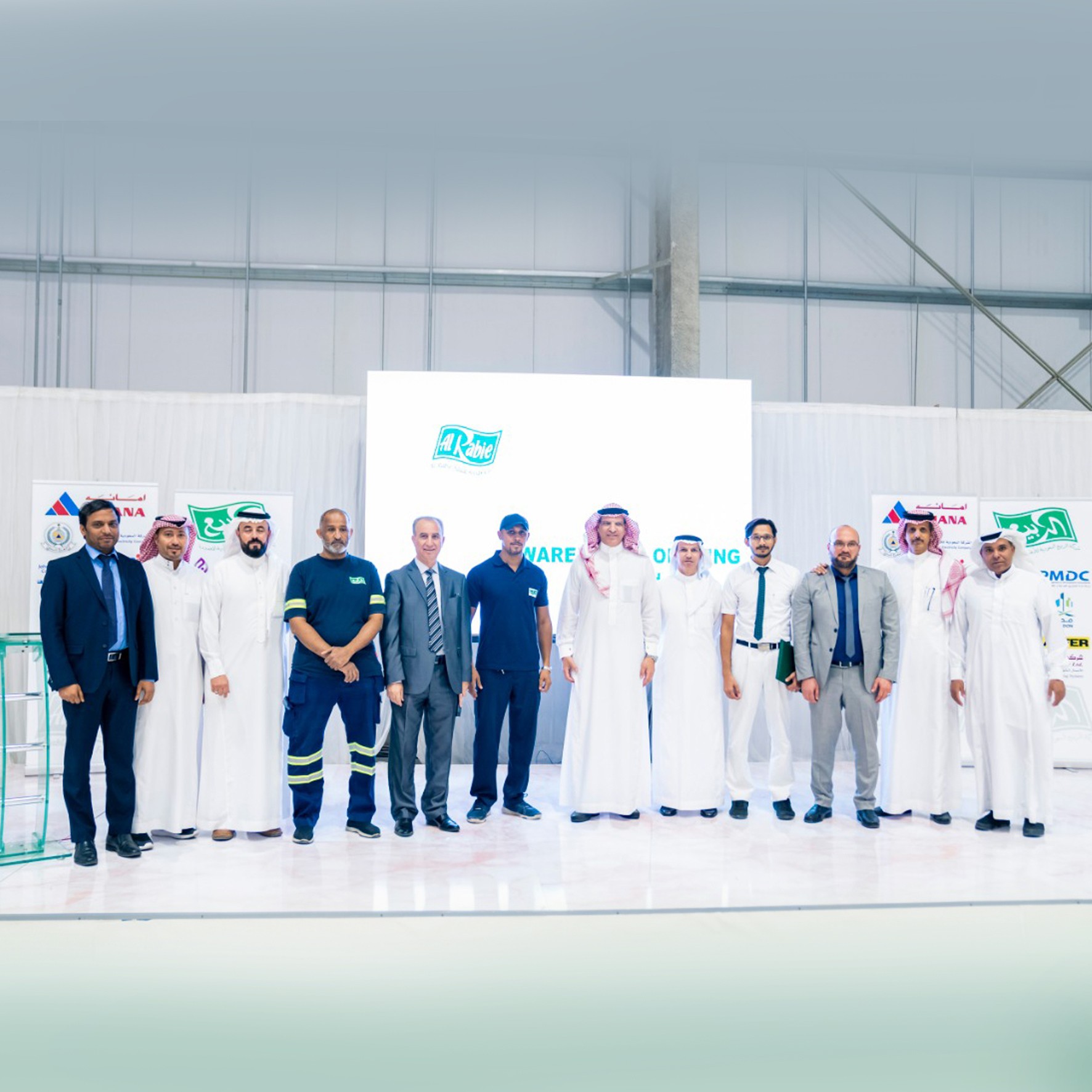 Al Rabie Saudi Foods Co.Opens its New Warehouse in Riyadh
AlShareef Monther Al Harthi - CEO of Al Rabie Saudi Foods Co. - stated: "Over the past 40 years of our journey and as usual depending on God Almighty first and our human resources and decision-makers within our headquarters in Riyadh next, we have inaugurated this year one of the largest and most advanced warehouses in the Kindgom and the Middle East. After deep and extensive studies and under the supervision of leading specialists in this field, this grand edifice has been inaugurated as part of our constructive strategic plan to develop and expand our future business. In line with our core principle of delivering the highest quality products, we have also decided to build a modern warehouse for our products and raw materials in compliance to the best standards and specifications". Mr. Al Harthi added: "We are so proud of the achievement of such a huge project in our homeland and we trust it will help grow our business activities in the future. When deciding to kick-off the project, we relied on the best engineers and experts in construction planning, and thus we were able to build and inaugurate this warehouse in less than two years' time, and we thank all of our partners for this, hoping that it will add to our continuous success and a new era of prosperity for everyone to realize their future plans' goals".
It is worth mentioning that the warehouse was constructed on an area of 39,000 SQM with a building area of 26,000 SQM in Al Fawzan Industrial City on Al Kharj Road, approximately 27 KM away from Riyadh City Center.
The total capacity of the project exceeds 45,000 pallets of raw materials, manufactured goods and other essential materials related to manufacturing. All the above is located within an environment-friendly and energy-saving edifice.
From the preparation of tenders to the full supervision and management of the project and in compliance to Al Rabie Saudi Foods Co.to implement the project with the highest and newest technology, we partnered with Suleiman Al-Khuraiji Architecture and Engineering Consulting, one of the best consulting companies, who designed the project and they were selected because of their accuracy and professionalism. They were able to meet our high technical standards and match our quality of work specifications. The Saudi Amana Contracting Company handled the construction initiation work and communicated with the concerned government authorities to obtain building and construction permits, so that we could initiate the project in a very short period. This was topped by the delivery and connection of 4.5 MW of electricity, activated by the Saudi Electricity Company as soon as construction was completed.
As for safety and security, all fire alarm and fire-fighting systems were installed in compliance with the best specifications and standards. As to the handling and transportation equipment, the warehouse has been equipped with the latest technical machinery of the best quality and quickest performance, such as advanced battery-operated forklifts. With regards to the cooling system, a special implementation was done matching the warehouse grandeur, providing maximum efficiency and energy consumption, managed by a reliable and user-friendly central control system.
Finally, it is important to note that all implementations have been designed and executed keeping in mind the requirements of the rapid era and the keenness of Al Rabie to provide the best products with the highest quality to consumers, according to the global standards and matching the needs of local or regional markets.